Don't think a diabetes diagnosis could happen to you? Think again. The numbers are staggering: About 30 million children and adults in the United States have diabetes. Another 86 million Americans have prediabetes, meaning they are on the path to developing the disease. And each year, nearly 2 million Americans are diagnosed with this serious health condition. The good news: Your DNA can provide valuable insight into your risk for a variety of preventable health conditions, such as type 2 diabetes. You may not be able to change your genetics, but you can change how likely it is you will be diagnosed with type 2 diabetes and other conditions relating to your blood sugar levels. Unlike Type 1 diabetes, type 2 diabetes is highly preventable — it's estimated that 9 in 10 cases of type 2 diabetes could be avoided by the right diet and type of exercise alone!
But which type of diet and exercise is best for managing your blood sugar levels and preventing diabetes? At Frélii, our A.I. Navii helps us to
analyze your DNA and provide you with recommendations to manage your blood sugar levels and help you be the healthiest you can be based on you and your unique DNA. Think of it as a healthy living plan based on your genetics! But knowing the best ways to live a healthier life is only half the battle. We know that you won't stick with a diet and exercise plan that doesn't work for you. That's why we make it easy for you to reach your goals by providing you with delicious, simple-to-prepare and targeted recipes designed to help you manage your blood sugar levels — even sweet treats! Most of our recipes are designed to be on the table in 30 minutes or less — great for busy weeknights. Are you so busy that eating right is a struggle? We can help with grocery- and meal-delivery suggestions that can make eating right even easier.
Navi also will provide supplement recommendations that are designed to work hand-in-hand with healthy eating. Our supplement Synulin, for example, contains the patented Isochrom formula, designed to help move sugar, fat and protein from the blood into the body's cells to be used as energy. This in turn may help improve your body's blood sugar and insulin levels and improve your metabolism.
In preventing type 2 diabetes, research indicates that a low-fat, high-fiber diet combined with moderate exercise — at least 30 minutes per day, five days per week —is a powerful combination. That's why we also help provide you with an exercise plan and other lifestyle changes based on your DNA and designed with your specific goals in mind. If you're sedentary or don't exercise regularly, we'll help you sneak exercise into your day.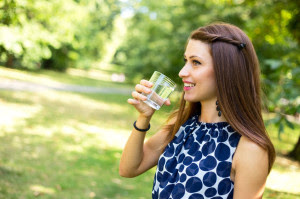 Unlike other cookie-cutter diet and exercise plans, we share with you not only what you should do, but specific ways to accomplish your health goals. When trying to manage your blood sugar levels, for example, your doctor may tell you to avoid foods and beverages that contain added sugar. We'll offer up regular suggestions — such as swapping sparkling water for soda — that can add up to big, positive changes in your health over time.
What are you waiting for? Take a step toward a healthier you today by finding out what' s in your DNA and creating a health plan designed with YOU in mind. Forget the one-size-fits-all health plans. Navii analyzes more than 600,000 gene variations that impact your health, delivering you 5X more information on genes related to your health than both 23andMe and Ancestry. Get started today.